Major automotive manufacturer retrofits vision system for productivity gains
Summary
The powertrain plant of a major automotive manufacturer's powertrain plant was experiencing problems with an existing vision system. By retrofitting the vision system using Apera AI's Vue robotic vision software, productivity increased, downtime was eliminated, and the precision of the process was improved. This case study was first presented at Automate 2023, hosted by the Association for Advancing Automation (A3).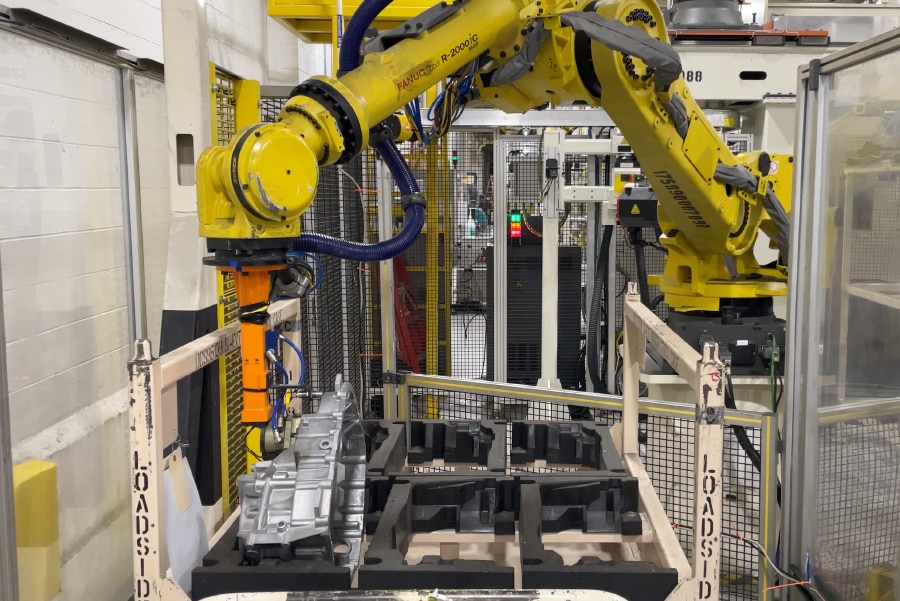 This is an existing robotic cell using two industrial robots and a vision system for robotic guidance. The cell is used to pick transmission cases off of a cart and position them in a laser etching station.
In about 50% of picks, the existing vision system was missing picks. The cell was experiencing significant downtime caused by these missed picks. These issues were attributed to the complex geometry of the part, its reflective finish and variable positioning of the cases on the cart.
The goal of the project was eliminate missed picks and cell downtime. Improved positioning of the transmission cases at the laser etching station was a secondary goal.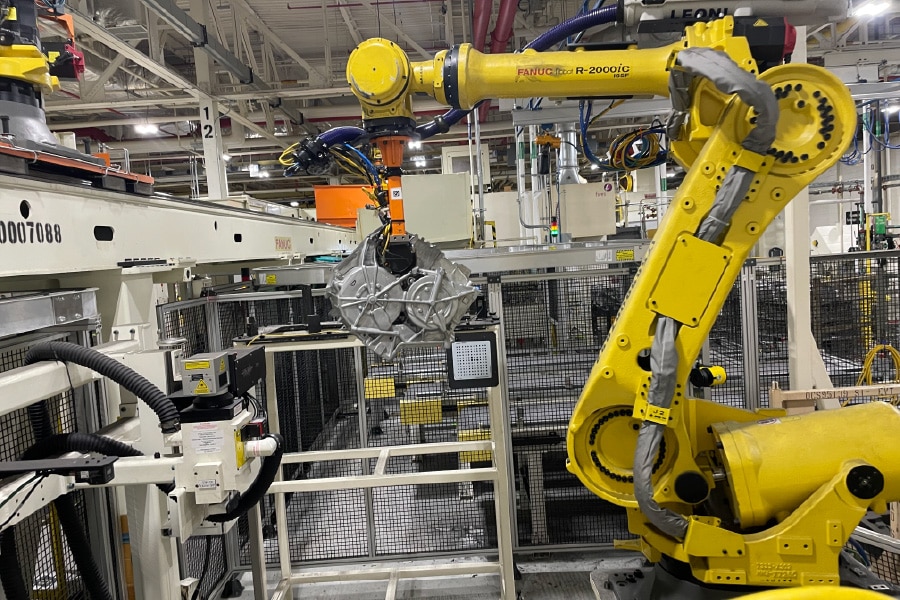 The chosen path was to retrofit the existing vision system with Apera AI's Vue robotic vision software, implemented with three pairs of 2D cameras used with Apera vision systems positioned high above the cell.
Since commissioning, there have been no missed picks. Despite the complex geometry and shiny finish on the part, the parts are better positioned for laser etching. The project team from the customer has said that the project has created considerable annual savings through eliminated downtime and improved robotic cell productivity.
The main area that required adjustment was how the cameras were positioned above the robot to gain a wide field of view. Three pairs of cameras coupled to the same computer running Apera's Vue software run the system. The project team recommends to other users to consider camera positioning and to check the software of the robot for programming purposes prior to doing your own vision retrofits.